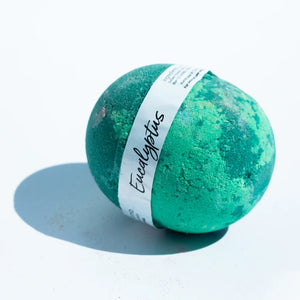 No need to hang foliage for a pretty spa-like atmosphere.
The fresh scent of eucalyptus leaves cuts through the air, instantly calming your nerves. The sharp, clean fragrance is like a breath of fresh air, clearing your head and promoting focus.
Our Original bombs are packed with natural ingredients including Epsom salts!  These fizzing balls of goodness are so soothing and leave the skin feeling fresh and soft. 
Add a single bomb to your bath for an explosion of softness, color and fragrance.  Our bath bombs soften and soothe dry skin.
For external use only.

155 g/5.5 oz
 Our original bombs are designed to be a no clean-up bomb that disperses their skin softening, Epsom-backed benefits rapidly and evenly throughout the bath.  As a result, our original bombs do not float.  If you prefer floating bath bombs, we suggest you check our Bombs that aren't labeled "Original"
These bath bombs come wrapped in cellophane and a label.