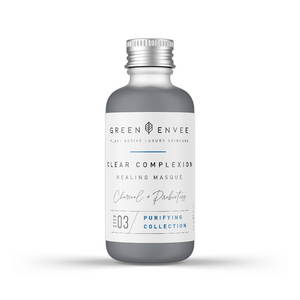 SIZE: 2oz.

Detoxify troubled skin. This masque powerfully absorbs dirt and impurities, promoting cellular turnover for dramatically brighter skin. Charcoal + Probiotics refine pores, reduce blemishes and absorb excess oil. Powerful antioxidants replenish, nourish, and support sluggish skin for a radiantly clear complexion.
In a small bowl, add 2-3 scoops of powder then mix with water or toner until a creamy consistency is formed. Apply evenly to face and neck area. Allow 10-15 minutes for mask to dry, then rinse with warm water. Use at least once per week for best results. Follow with an application of toner, serum, and moisturizer.
SKIN TYPE: ALL
Targeted Concerns: Combination, Acne/Problematic Skin, Oily
Reviews: "Finally, a masque that helps reduce my blackheads! I use this once a week and it has drastically reduced acne & my complexion looks 10x better. It's great for oily skin." Melanie W.
Ingredients: Montmorillonite (French Green Clay), Organic Aveena Sativa (Oat) Kernel Powder, Activated Charcoal, Ascophyllum Nodosum (Seaweed) Powder, Allantoin (from Comfrey), Zinc Oxide, Lactobacillus Acidophilus Probiotic, Bifidobacterium Lactis Probiotic, Lactobacillus Plantarum Probiotic, Lactobacillus Casei Probiotic, Lactobacillus Rhamnosus Probiotic, Lactobacillus Paracasei Probiotic, Bifidobacterium Breve Probiotic, Streptococcus Thermophilus Probiotic, Lactobacillus Salivarius Probiotic, Bifidobacterium Longum Probiotic, Organic Lavandula Angustifolia (Lavender) Oil, Wildcrafted Citrus Bergamia (Bergamot) Oil