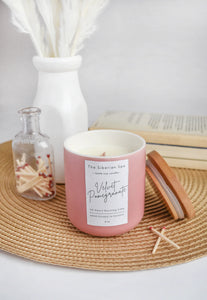 This Velvet Pomegranate candle is made by hand in very small batches, using 100% natural soy wax and crackling wood wick. It's made in ceramic candle jar with wooden air-tight lid. It has a classic creamy vanilla fragrance. 
This is a 8oz candle, which has an approximate 40 hour burn time. 
Candle Care
Allow enough time for the wax to melt completely to the edges of the container to prevent "tunneling".
Trim the wick to 1/4" tall before you light your candle and after each burn to keep the wax clean and burning nicely.
Avoid burning your candle for more than 3 or 4 hours at a time.
Never leave a burning candle unattended. Be sure to extinguish the candle before leaving the room.
Keep candles out of the reach of children and pets.
Place candle on a stable, heat resistant surface away from flammable objects before lighting.