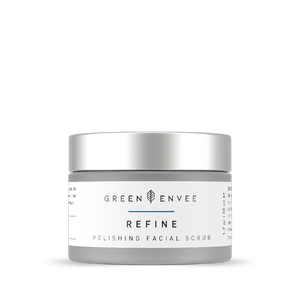 SIZE: 50ml

Effectively remove dead surface cells and exfoliate away dull, dry skin for a smooth and healthy skin texture. This hydrating exfoliation stimulates cell renewal, reduces fine lines, and diminishes oil and residue for fresh, clean skin. Bamboo + Chia combine for an exfoliating treatment that will leave skin with a youthful, rejuvenated glow.
Massage onto clean, damp skin in circular motions over entire face and neck area for maximum exfoliation benefit. Rinse well with warm water. Use once or twice per week. Follow with an application of toner, serum, and moisturizer.
SKIN TYPE: ALL
Targeted Concerns: Normal Skin, Dull Skin
Reviews:
"I am obsessed with the refine polishing facial scrub!! I'm a sucker for a good smelling product and this is a vanilla dream… a vanilla latte vibe! I love the way my skin looks and feels after. definitely have noticed a difference in my skin since I've been using this. my skin feels super soft and has that healthy glow. the best part is that it's fragrance free and all the good smells are 100% natural!" Kristen L.