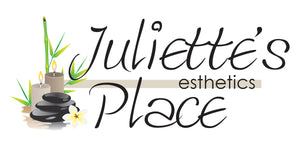 Please note there will be a price adjustment/increase July 1st 2023
Spa Service Gift Certificate - Dollar Amount

This gift certificate is for spa services at Juliette's Place Esthetics located in Guelph Ontario and can also be used on retail items at that appointment. Currently it cannot be used online for retail purchases.
Use the drop down menu to choose your dollar amount.
This is a physical gift certificate that can be picked up in Guelph or be sent in the mail to you or the recipient. 
Please include the following information in the notes section when you check out:
-To:
-From:
-Occasion
-If this is being sent to you or the recipient (and their address)
 * Please keep in mind when purchasing a gift certificate for someone else that I do not offer evening appointments. Only day times and I will be off from November 11th- December 10th 2022.